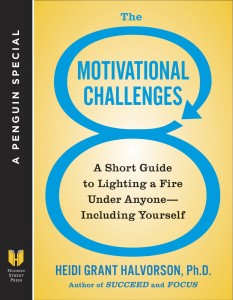 Here's the description:
How do you get someone who's putting in low effort to put in more?
How can you get someone who is reluctant to take on new tasks embrace challenge?
How can you get a good performer to perform even better?
There is no one-size-fits-all way to get people motivated. Anyone who tells you that you should do X to get the most out of your employees, your students, or even yourself, isn't telling you that – at best – X only works for some of the people, some of the time.
In The 8 Motivational Challenges, renowned Social Psychologist Heidi Grant Halvorson identifies the eight different types of underperformers and draws on research from her books Succeed and Focus to offer tailored strategies for lighting a fire under each one:
1. The Teenager
2. The Showoff
3. The Neurotic
4. The Stick in the Mud
5. The Eager Beaver
6. The Alert Apprentice
7. The Star Who's (Almost) Born
8. The Expert in the Making
Underperformers range from the truly achievement-challenged to those who are actually performing at a high level, but could perform even better if someone knew the right way to motivate them. Halvorson explains how we can understand each profile in terms of the mindset and motivational focus they bring to their work, in addition to the confidence with which they approach it. For each profile, she lays out specific, evidence-based strategies for increasing effectiveness and engagement.
We differ from one another in countless ways. What we need is to somehow identify meaningful differences between people. Succinct and focused, this prescriptive guide will appeal to readers of What Successful People Do Before Breakfast and 9 Things Successful People Do Differently.